Melbourne's Number One Roof Painters
Has your rooftop faded over the years, or been affected by severe weather? Our experts can give your roof a brand new look with their professional services. Supreme Roofing Group has chosen the Nutech paint brand for all our home roof painting jobs. Continue reading to find out more information about the company and its products.
Nutech roof painting systems for years of wear and great looks


For 39 years, Nutech has provided exceptional solutions to the world. Using modern chemical and production technology, their products remain competitive and effective. Despite its global reach, Nutech remains focused on the customer, through its range of coatings.
Primers and undercoats for a complete roof painting job
We stand by two quality Nutech products when it comes to completing work as roof painters in Melbourne: Nu-Prime and GP Primer. Nu-Prime is an adhesive for difficult surfaces that results in a waterproof, bacteria-resistant coating. GP Primer is an undercoat for stable tile surfaces. It creates a high gloss, low-sheen, waterproof coating that is strong, safe and fungus-resistant. Both primers work best with Tileflex, Nuflex or Flexi-shield.
Colour sealants for the highest level of protection against the elements
Nuflex is an acrylic emulsion coating for tiles. Its formula guarantees durability and performance in extreme weather. This makes it an ideal solution to Melbourne's wild winter storms. Nuflex is available in 36 colours and can be custom-tinted. TerraGlaze is a clear, protective sealant that resists discolouration through UV light absorbers and silicon. It also prevents mould and fungal growth, which our expert roof painters highly recommend. With all these benefits considered, it's no wonder why we choose Nutech paints to get the best possible results for each and every one of our customers.
Before your roof is painted, we recommend you utilise our premium cleaning services. At Supreme Roofing Group, we offer a complete range of roof restoration, maintenance and repair services to give your tired old roof, a fresh new look. We can even provide a full makeover with brand new tiling that helps return your home to its former glory.
Contact our team of roof painters today for a free quote
For the best roof painting in Melbourne where quality workmanship is put first, contact our team of roofing experts on 0433 944 303. We offer free, no-obligation quotes. You can also get in touch by filling out our simple, online enquiry forms and we'll try to get back to you as soon as possible.
The coatings are applied using a contractor grade spray machine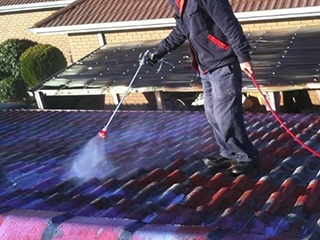 Nu Primer(Sealer) is applied as undercoat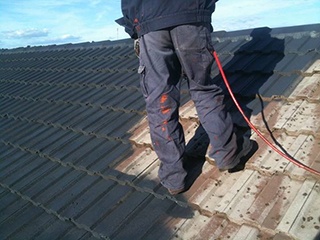 Colour coating is applied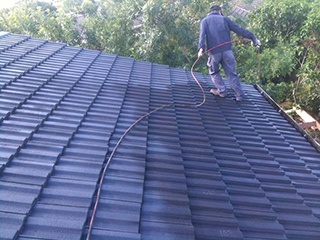 Second colour coating is then applied